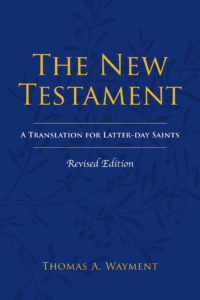 As we're studying the New Testament this year, I thought I'd pass this along. A couple of years ago, I went to Education Week. I took a class called "Translating the New Testament: Our Latter-day Saint Bible Heritage" given by Thomas A. Wayment. He has translated the New Testament into English for Latter-day Saints. Since then, he has put out a revised edition. He says, "This new revised edition is an effort to correct the first edition—in nearly two hundred instances—both in the notes and less frequently in the text."
Here's the full description:
"The language of the King James Bible will always be part of the Latter-day Saint cultural fabric in English. It is woven into our hymns, our ordinances, and our scriptural canon, and it has been one of the primary vehicles through which we encounter the word of God. However, when the language of translation becomes too foreign, too distant from the present age, it is time to consider the possibility of another translation. The four-hundred-year-old King James Bible in use by English speaking Latter-day Saints is an artifact of the seventeenth century and is no longer a living and breathing text. The New Testament was written by the marginalized and impoverished; its language is that of common people and not the educated elites.
"The New Testament: A Translation for Latter-day Saints is an invitation to engage again the meaning of the text for a new and more diverse English readership by rendering the New Testament into modern language in a way that will help a reader more fully understand the teachings of Jesus, his disciples, and his followers.
"This new revised edition is an effort to correct the first edition—in nearly two hundred instances—both in the notes and less frequently in the text. In addition, the introductory material has been expanded to include discussions of the Joseph Smith Translation and on reading scripture, and appendices have been added detailing the many instances in which the language of the New Testament appears in other Latter-day Saint scripture."
Pick up yours here:
https://www.amazon.com/New-Testament-Translation-Latter-day-Revised/dp/1589587863